DUOWATT
Niche: Products for renewable energy
Site type: e-commerce shop
Country: Italy
Beginning of collaboration: October 27, 2022
Description: duowatt.it is a young store (registered in September 2022) that sells products for renewable energy – solar panels, inverters for renewable energy, energy storage batteries, domestic electric car charging stations, and others.
The working process
The first step in working on each project is to analyze the client's activity. In this case, we have informed ourselves about the field of renewable energy and about the products already available on the Italian market (competitor products to those of the client).
We have identified relevant discussions about the renewable energy niche on forums. To be more specific, discussions related to:
Solar panels
Home charging stations for vehicles
Electrical energy storage batteries
3.  I have written a response to the discussions on the forums. Of course, you can find examples of text by accessing the links above, but a text translated into English would look like this:
💡 I still consider it a good investment. Even if they are not constantly used, solar panels pay for themselves within a few years. So in the long term, I think it's worth it. Even if you don't live there all year round, you can accumulate energy and sell it. I, owning a vila, bought some photovoltaic kits from www.duowatt.it/kit-fotovoltaico-3-kw-accumulo-huawei-15kw with monocrystalline photovoltaic panels that produce more power per square meter, and I sell what I don't use. I would say a good deal. Also, if you have the opportunity to invest now, why not? You don't know what will change in the future, and maybe you will move there permanently or sell it, and solar panels will increase their value.
Of course, in the text, we also included a link to the Douwatt website.
4.  Depending on the time we have available for each package, we post the texts gradually.
💡 It is appropriate to mention that the time necessary to fulfill each package can be found on our dedicated Crowd marketing page but at your request. That period can be longer at the customer's request, and we can also place a link a month.
Results
Disclaimer: The results you will see below are not solely due to the links created by us on forums, although they had a major impact. While we create links on forums, the client also obtained some mentions in articles on local websites.
As expected, our links led to an increase in the authority of the DUOWATT website for Google, which is reflected in an increase in the number of impressions and clicks in the SERP.
SERP refers to the search engine results pages, which are the pages that Google generates when we enter a query in the Google Search Box. These pages are made up of pages from hundreds of thousands of websites that contain relevant information to our query.

Impressions are a Google metric that shows how many times your website has appeared in the SERP (Search Engine Results Page). This means that it shows how many times people have searched for relevant queries in your industry and your website was present in the SERP.
Regarding clicks, I think it's clear by itself. They mean how many times people who have seen your website in SERP, have accessed it.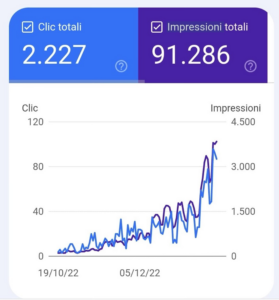 Now let's do an analysis of the competitors.
This is how the traffic evolution (orange graph) and the number of websites from which duowatt receives links (blue line) look on ahrefs.com:

This is the evolution of the competitor greenenergypoint.it/:

And this is the evolution of the competitor greeneconomy.it/: